Anyone who sees me day to day can attest to the fact that I don't know much about fashion. I'm pretty indifferent when it comes to choosing clothes, usually opting for black jeans, black shoes, and a black teeshirt with a shirt over it in some color approaching, well, black. But even given my limited interest in fashion, there are some things I can see clearly. And here's one of them: Polo shirts are ugly.

Why in hell, I wonder, would anyone ever wear a polo shirt?

If you're a woman, a polo shirt will just make you look ditsy and dull. It doesn't matter what color you choose or what you match it with. A polo shirt, even in bright yellow, makes you look boring and boxy and half-informed. So why would you ever buy such a thing? Beats me.

And if you're a man? Here things are even clearer. At the very best, a polo shirt will make you look like a nerd. Don't believe me? Take any given nerd and look in his closet. Half his shirt wardrobe will be polo shirts or your money back guaranteed.



Think about it. When a Hollywood director has to portray a geeky suburbanite or some loser trying to pick up a woman in a bar, he will almost always put the actor in a polo shirt. Why is that? Simple. It's because guys like this, in real life, usually wear polo shirts. Directors know this, and audiences know it too. (Well, at least those not in polo shirts know it.)

So do you really want to look like a geeky suburbanite? No? Then why would you ever put on a polo shirt?

If a polo shirt doesn't make you look like a nerd, it will almost certainly make you look like a total dick. This is the other kind of guy who wears polo shirts. He wears them because he wants people to know he's in a yacht club or a has a pricey membership in a golf club. He either wants people to know this or to think it. Truth is maybe the guy isn't in either sort of club. Maybe he can't afford the membership. But does it really matter? Guys who join pricey golf clubs and guys who dream of joining pricey golf clubs both have pretty much the same personality. They are dicks.



If you are a man who often wears polo shirts but still aren't convinced they make you look like a dick, there's one way you can be sure: wear your polo shirt with the collar up. This will cinch the deal. Other than wearing a Nazi uniform, there's really no better way, through mere clothing alone, to make most people who see you immediately want to break your nose. A man in a polo shirt with the collar up is screaming out "I AM A TOTAL DICK" to anyone who sees him.



Still doubt that polo shirts are all that bad? Then try a little experiment. Take the first very cool person that comes to mind and try to find a photo of him online wearing a polo shirt. Go ahead. I'll give you a few minutes.
. . . .
So you're back. You say you
did
try the experiment and you
did
find photos of a cool person in a polo shirt. Well, that's because you probably chose someone like Pierce Brosnan. Obviously there's something seriously defective in your notion of cool. Maybe you have more general problems you to work on before you even bother thinking about your wardrobe. Maybe there are more
fundamental issues
that to be addressed.
Okay, I know, I know. You googled "Obama" and found pictures of him in a polo shirt. But did you find any such pictures from
before
he got in the White House? You didn't, did you? That's because something happened to Obama, something kind of mysterious. Not only has he started wearing polo shirts, he's done all sorts . . . . But I don't want to get into it here. The point is: the Obama example doesn't count. Because sometimes people who aren't
fundamentally
dicks, who aren't dickheads
in essence
, can end up doing seriously dick-like things. Or maybe it's that they change slowly, or not so slowly, from being cool into being, well, total dicks. Hard to say.
Barack Obama, Sell-Out in Chief.
Back to my main point. And it's this: There's good reason guys like Tiger Woods almost
only
wear polo shirts. There are two good reasons in fact:
Number 1: guys like Tiger Woods play golf.

Number 2: guys like Tiger Woods are arrogant dicks.
For me these two reasons tend to fold into one and the same reason. But this is ultimately a deep philosophical truth about golf that is too complex and abstruse for me to get into here. I'll leave it for another time. Let me just, for the record, add two more reasons Tiger Woods
deserves
to wear polo shirts: 1) the name "Tiger" is the most dickish name I've ever heard; 2) Tiger Woods has terrible taste in women.
In conclusion-- Why in hell did you ever buy those polo shirts? And why don't you just make dishrags out of them like they deserve? I leave you with this:
Eric Mader
UPDATE 2016:
"Popped collars"? No. I've finally realized the precise term for it. It hit me last week while listening to a guy in a cafe with collars up on his orange polo bragging about his business acumen: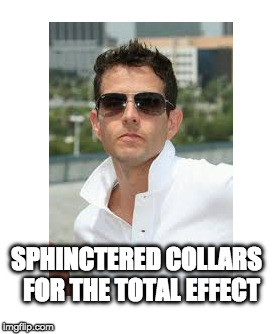 Just click on image to share.
* * *
Check out my recent book
Idiocy, Ltd.
and begin the long, hard reckoning.